Fishing News
Fishing Kayaks from NuCanoe
Written by Gary Poyssick on 22 December 2012.
Where the heck did the idea for a fishing kayak come from? In 1971 a young guy living in the sun and surf of California designed and produce his first kayak from a fiberglass mold. The first day he slid it across the sand and into that beautiful blue water, he really had not thought of selling them. He was a high-school graduate on his way to a real life. He didn't think of being one of the top watercraft designers our country – and the paddling and kayak fishing world – has ever known. But Tim Neimler, and the company he started would change modern fishing forever. The first ones he built were made in America. Years later, people are still fishing on his American-made watercraft.

Fishing Kayaks: The Beginning
Starting in a small custom kayak shop on the beach, he sold product to a select few people that knew what he was making in the back of the store. The dust and glass in the air was soon blowing around a new location in Ferndale, Washington, where he founded a company that could produce the volume and quality of fishing yaks the market demanded. Ocean Kayak was born. It was there, in the company he founded in 1988, that he developed Rotational molding, a way to produce large volume while ensuring consistent volume. Fisherman and fisherwomen all over the world found themselves hunting from the platform. In the late nineties, Tim sold the company to Johnson Outdoors, one of the major players in our space, providing hundreds of products from inexpensive to top of the line. Ocean Kayaks, and the anglers sitting on them (a percentage of their fishing expenditures, at least) was theirs.
NuCanoe: A Billion Butts on Boats
Neimer did not lose his love for watercraft after the deal for Ocean. The terms were kept private, but the man's love for designing watercraft was certainly not put to pasture. He loved designing boats, he loved being on boats, and he loved the people who loved his boats. He decided to spend his time designing something completely new – a new, safe, and effective fishing designed based on his now-legendary knowledge of designing good the best fishing kayak the world knew up to that point. Stability? He had the t-shirt. Ditto ease-of-navigation, appropriate sizing, stability (did we mention that? Ever stand up in a kayak?) and a thousand other things that no-one but a professional could identify, much less identify as critical all entered into the math.

Sitting on a Kayak that doesn't roll in the water is the guy named Tim Neimler, the originator of a yak a lot of our readers have fished: Ocean Kayaks.
They came from Tim's mind in the first place. The evolution of fishing kayaks was taking place. When you see the NuCanoe, you will agree. Fish from one and you might write the next glowing story. If you know us, you know we do not write stories praising something unless we believe in the products. Positive opinions do not come with a price tag here. The kayaks that started with Ocean and have evolved into NuCanoe speak for themselves.
The Evolution of the NuCanoe
The story of today's NuCanoe is no longer the story of the original designer. It's the story of a man named Blake Young. Blake was a friend of Tim's with a strong and solid – and proven – experience running businesses. When I met him on the phone last week and we were talking about the NuCanoe brand, the conversation quickly led to the difference between starting a company and actually running it once it has started. Actual daily product, lost products on trucks to nowhere, employees, political correctness, and a host of variables having nothing to do with creativity enter into play. Blake built the idea born first at Ocean and then at Tim's second company into a Made in America watercraft that is exciting fisherman around the country and the world. Blake knew business, and he built one from the idea for NuCanoe. Profit and Loss statements, Cost of Goods Sold, and lost kayaks notwithstanding, this is the fastest growing manufacturer in the fastest growing side of our sport: Kayak Fishing.

We wanted to provide some information about exactly how fast the kayak fishing segment is growing, we found an outstanding outdoors site called NeTrailHead.com. This excellent article about Kayak Fishing indicates just how important an aspect of our sport it has grown into.
The Growing Family of NuCanoe Dealers
If you visit NuCanue's website, you can read all about how cool the craft is, how much people love them and find a list of places you can buy them. There are even a few quotes from the dealers, telling us how they became dealers for what's the most popular new fishing boat in our marketplace. But talking to them directly provided us far more insight than reading their quotes on the web.
After talking to Blake and laughing about lost kayaks and trucks and P&Ls, I called two of the dealers. One of the NuCanoe dealers I talked with is from Saint Petersburg – right up the street, and the other one in North Tampa. If you live somewhere else, you can find the closest dealer at the "Find a Dealer" page on the company's elegant site.
West Coast Kayaks

Jerry and Katie Allen did not realize they were destined to become one of the hottest Kayak dealers in the area – drawing many clients to their Saint Petersburg WestCoast Kayaks and Paddle Boards. The store didn't actually even start as a store. "Katie and me bought two and started fishing on Kayaks. When we found the NuCanoe and started fishing them, the quality was just great. We got in touch with Blake and started selling them from a catalog with a color chart out of our garage. " I asked if he felt his family was successful. "We sure are. People love them, and we carry a great line of accessories." The success of stores like theirs is, of course, largely because of their commitment to satisfying their customers; but carrying great products is not a minor factor. The company carries several top lines of Watercraft, and a measurable percentage of their revenue stream are from Stand Up Paddleboards, a new and growing sub-segment of paddle craft.

Unique Yaks

"Capt'n Doc" started Unique Yaks in North Tampa "by accident". "Seriously, Gary; my brother and me were talking about what we wanted to get. We had looked all over, at just about every boat out there. We knew we wanted to kayak fish, and we had heard about NuCanoes." Talking to Doc was a lot of fun; the personality of the guy has to have a lot to do with the store's success. When the two brothers decided they were going to spend the money rigging a pair of NuCanoes, they ran into the second problem locals faced: there were no dealers. Starting Unique Yaks when they did makes them the oldest of all the dealers in the Southeast.

Local Communications and National Quality...
Working with all three of these people at the same time lent unique flavor to the story. It is one thing to talk to the guy(s) who thought of, drew, molded, and successfully built a business around a great fishing watercraft. But talking to these two dealers, and learning how they became dealers was another thing altogether. I have never found two local dealers who became dealers because of a single product. In the case of the dealers, stores, and resellers I have met in my long life, products where the thing them moved – it wasn't the thing that moved them.
Obviously the marriage of Tim Niemler and Blake Young was a bit of fishing history; Niemler is clearly one of a handful of people responsible for making kayak fishing the industry it is today. Young's entry into the recipe and the success of NuCanoe has to do with the product, the people, and the effectiveness of their fishing kayak.
If you fish from a kayak, want to, or simply want to talk about that aspect of the sport, check these people out. You can start with the manufacturer's site, and find a dealer near you to continue the conversation. If you're near North Tampa, check out Unique Yaks and ask for the Doc. If you're on the south side of the "Pond" (Tampa Bay, not the Atlantic Ocean), you will find West Coast Kayaks and Paddle Boards on Central Ave on the southwest side of the intersection of 66th Street.
_____________________________________________
Jackson Kayak
The Big Tuna
Made in America, Feature Company
Jackson Kayaks are 100% American Made including the smallest detail. While talking to Eric Jackson, owner and founder, at the ICAST sport fishing show in Orlando, I discovered that he has returned a lid on the water bottle he includes with his kayaks because it was made in china. This attention to detail is what makes his company unique and the leader in kayaks for sport and fishing.
Mr. Jackson also stressed that "the only foreign parts on our kayaks come from North Carolina" but we agreed that the folks from that state may rejoin the Union after the next election, if the polls are correct.
Eric shares a hard of hearing issue with this writer and it has never stopped him from becoming the number one kayak worldwide, produced in the great state of Tennessee! He has beaten the odds and economic forces of Asian markets to out-best them on their own turf.
This is a true story of endurance and how Made in American can always succeed if you put forth your best effort. Look for Mr. Jackson and his company on the fishing information site TheOnlineFisherman.com coming in September where he has generously donated 'The Big Tuna tandem kayak' for a sweepstake event "CATCH THE BIG TUNA" centering on an essay entry on "What does Made in America mean to you, your family, and your community" all groups that wish to participate are encouraged to contact the writer.
This Sweepstakes is an exercise in the First Amendment of the United States Constitution, political point of view is unimportant, only the appreciation of American and its incredibly versatile and resilient citizens is asked.
_______________________________________________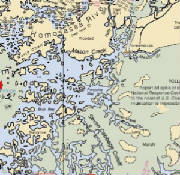 Homosassa, Fishing Report
Written by Captain Robert Leffew on July 2, 2012
We were planning on fishing in Homosassa Bay, just off Chassahowiztka Point and Drum Key, but we never made it out to the flats. On the way out Mason Creek, just south of the Homosassa River Channel, we stopped to toss a couple of baits along the oyster beds and small mangrove islands. You never know what you might encounter in the estuary by the Blue and Porpoise Bays, especially with a full moon and an incoming tide ripping through the cuts.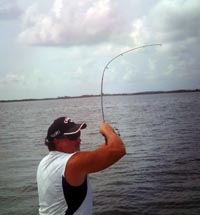 One of the spots we usually hit on the way out is called the Fish Box by some of the locals; a tight little cut with a depth of about 10 feet. Normally it's a good spot to take a couple Trout if they're feeding inshore. We cut the motor and drifted in the current as we rigged our lines with soft baits, D.O.A. Pearl Shad on a redhead jig, was the choice here. On the first cast I threw it out as far as I could and yanked it hard into the current, letting it drop to the bottom and then pulling it back toward the surface with yank.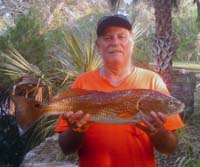 Right away I got hit, and landed a twenty inch trout on the little Shimano Zyclo combo loaded with 10lb braid. We were joking about at least having dinner in the boat when we started getting hits all over the place. The trout were consistently over 20 inches and were hitting well when the lady fish moved in and started tearing up the soft baits. After losing some good lures, we decided to head off to the area behind Northwest Keys and fish the shallow bars and tiny mangrove clumps.
I really like braided line for the flats, but in the rocks and oysters beds it's almost impossible to break off when you get rocked up, and after a few times I had to get out my gloves to keep from slicing up my hands pulling it free. Even with the constant hookups on the bottom, I was totally impressed with how the braid performed on these big reds.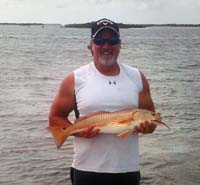 For the rest of the day we worked up and down and in and out of the small keys moving to the leeward side of the hills to get out of the thick bay grass moving in with the tide. While drifting through the passes we came upon a small Kemp's Ridley turtle floating in the weed line. She must have been around four or five years old by her size and was missing her left front flipper. Barely moving, and in bad shape, we hoisted her aboard hoping to get her to the turtle rescue folks for some critical care.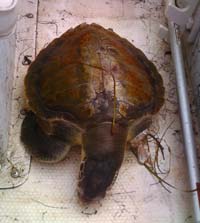 At first glance I thought maybe a bull shark had taken a bite of her, but after closer examination it appeared that she had gotten wound up in a crab trap line and lost the flipper in the storm that had just past. Now it was obvious she was not going to make it and had stopped moving, and then expired. We eased her over the side to let nature take its course and headed home.
All in all the inshore action was so good that we never made it out to the flats, but who's complaining. When cleaning the catch I checked the bellies to see what the reds were feeding on and they came up totally empty; I think Tropical Storm Debby had them hiding in the holes and they were just starting to feed hard after it past.
___________________________________________________________
States Fight Back Against National Ocean Council
Written by Robert Montgomery on 14 February 2012.
SHARE THIS STORY
Sign Up for the Latest Fishy News

Any day now, South Carolina is going to fire a warning shot across the bow of the attempted Big Government takeover of our fisheries. It's going to do so with a resolution "to oppose and refuse to recognize or enforce the coastal and marine spatial plans created in South Carolina pursuant to the authority of the National Ocean Council (NOC)."
"Enviros are going to hate it, but it will pass," a source tells me.
The feds insist that regional planning bodies, assisted by the NOC, will decide how our public waters are to be used in a "bottom up" process. Supposedly, intent is to reduce user conflicts via "marine spatial planning."
In reality, the NOC will be a "top down" dictate of where we can and cannot fish. Aside from asserting an anti-fishing agenda, if allowed to stand, it will be an integral part of a power grab by this administration, designed to control every aspect of our lives. (Another part of that strategy isThe White House Rural Council, a land-based equivalent of the NOC.)'
To voice opposition for this federal intrusion and to stand up for fishermen, state Rep. Mike Pitts introduced this resolution into the South Carolina legislature.
Legislators in other coastal states likely will follow his lead. Intent is to provide a united front of states opposing the NOC, as is happening with Obamacare, the attempted government takeover of health care.
Here is the resolution:
A CONCURRENT RESOLUTION
TO OPPOSE AND REFUSE TO RECOGNIZE OR ENFORCE THE COASTAL AND MARINE SPATIAL PLANS CREATED IN SOUTH CAROLINA PURSUANT TO THE AUTHORITY OF THE NATIONAL OCEAN COUNCIL.
Whereas, the National Ocean policy calls for a Coastal and Marine Spatial Planning process to regulate activities in waters owned and managed by this State; and
Whereas, Executive Order 13547 signed by President Barack Obama on September 30, 2011, circumvents Congressional action to promote a predetermined agenda of water uses; and
Whereas, the South Carolina General Assembly recognizes that without adequate scientific evidence to support Coastal and Marine Spatial Planning, this planning will have a detrimental effect on the coastal economies of our State; and
Whereas, the necessity for the zoning of aquatic uses and the existence of conflicts among uses of aquatic and coastal resources has not been proven factual; and
Whereas, the South Carolina General Assembly is uncertain that "federal, state, and tribal authorities" who are to staff Regional Planning Bodies designated to formulate Coastal and Marine Spatial Plans will adequately represent all stakeholders during the development of those plans; and
Whereas, Coastal and Marine Spatial Planning has failed to ensure the right of the public to access aquatic resources for legitimate conservation activities and recreational uses; and
Whereas, nevertheless, the South Carolina General Assembly recognizes the authority of the United States government to manage recreational fishing as a sustainable activity in federally controlled waters as stated in Presidential Executive Order 12962 as amended by Presidential Executive Order 13474, and, subsequently, the State of South Carolina will continue to manage and protect recreational fishing as a sustainable activity in any relevant conservation or management areas that fall under the authority of this State. Now, therefore,
Be it resolved by the House of Representatives, the Senate concurring:
That the members of the General Assembly of the State of South Carolina, by this resolution, oppose and refuse to recognize or enforce the Coastal and Marine Spatial Plans created in South Carolina pursuant to the authority of the National Ocean Council.