Fowlers Bluff Florida
The folks that reopened the 'Treasure Camp' at the County Boat Ramp / Fowlers Bluff, have done a great job renovating this landmark. We recommend their facility.
They have: canned and cooked food, marine gas, bait, assorted fishing, camping, and hunting products. And now they provide WiFi in the restaurant, Communications in Flowlers Bluff have always been limited; most cell phones will not work in this area so the addition of this hot spot is weclomed.
Treasure Camp 352-493-7607

You can't help but notice the changes to the Treasure Camp. The previously abandoned look is gone, replaced by a screen enclosed deck and freshly painted exterior that look great. The new gas pump has been installed, and the brick work and entry ramp were all built by the hard working owner. (Pictures below)

Below are old and new comments on The Treasure Camp

County: Gainesville and Suwannee

comment: As I enjoy 2 homes in 2 great communities, I also enjoy the quaintness of Fowlers Bluff. My family and on average 2 other families from Suwannee run up the river each Sunday to eat at the new 'Bar', as I hear it referred to. Yes, they do serve alchohol but also have fabulous food, great service and surprisingly a family atmosphere. We enjoy our ride up the river as 3-4 families spend time together and enjoy each others company and top if off with a great meal. My opinion is that the new restaurant adds to your value not detracts! I never liked the ugly, vacant building falling down from years of non use, how is the new restaurant not better than that? Most fisher folks have their gear, licenses and necessities before they get that far out from civilization, the restaurant owners have noticed a need and answered it. Thank goodness, we love it!

County: Chiefland
Treasure Camp is there for the citizens. It is not trying to over populate the bluff. Alot of the clientele I have seen there are LOCALS!!!!! And they all seem to enjoy the place and are grateful it is open. The food is awesome, the staff is friendly and the view is the best! Great JOB!

County: bronson fl
comment: love your rest. friendly with great service and terrific food. the view ain't too bad either!!!!

When I was a student at UF, I used to stop-by the FB area on my way to drop a friend off at Cedar Key. I've always planned to try to buy a little piece of heaven there to get away from this overgrown mess down here in Southwest FL. But a high density neighborhood comin' in is just what I (and just about everybody) want to avoid.

Please fight 'em with everything you've got. If you know of a nice joint for sale on the river, let me know and I'll buy it and join your fight!

Best of luck,
Tony

Lee County (Fort Myers)



comment: My family built our little place on FB in 1959 when I was 14 and for years I fished and hunted every square inch from Manatee Springs to half way to Suwannee. What fun it was following the old cedar railroad across the river and remains of the railroad bridge at the north end of FB; the Civil War ramparts upriver and the sunken rum runner boat at Big Turkey Island; the 19th century macadam road south of Vista and the old settler cemetery and Indian oyster mounds farther south; and sitting around the Treasure Camp store with old timers listening to tales of old. I was up there two years ago, after 30 years, hoping to fish (what? no more fish camp?) and there's far too much clearing going on all around. The whole area is way more civilized than I would like. Fight development tooth and nail or you'll wind up looking like my county.

Ron

Pinellas County

________________________________________________

 
____________________________________________
Lower Suwannee River Clean Up
Friends of the Lower Suwannee River and Cedar Keys NWR P.O. Box 1306 Chiefland, Florida 32644
Friends of the Lower Suwannee & Cedar Keys NWRs
Thanks for the Great Suwannee River Cleanup
"Thank You, Thank You, Thank You to the Friends members, the Refuge director and staff, and friends of Friends members who came to work on the Great Suwannee River Cleanup! It was an amazing day. The Friends launched from three sites, Camp Azalea, Fowlers Bluff, and the Town of Suwannee. The photos attest to both the fun we had, and the productivity of the cleanup crews. More than 3,000 pounds of trash were collected by more than the more than 85 who came. What a team!"
Team with most trash aprox: 500 gross pounds
Robert, Kelley, Katie, Ed, and Tina on board the 'Skeeta'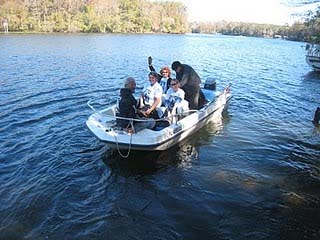 ____________________________________________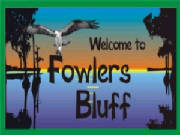 This poll was taken in the early 2000s, our economic downturn solved the development issue, and the new 'Treasure Camp" is back to being a functional business, see for youself the difference in the old vs the new.
OUR LAST POLL, ON THE SIGN ISSUE, GARNERED MANY OPINIONS, AND OUR VOICES WERE HEARD: BELOW ARE THOSE RESPONSES
I think the proposed is fantastic. I say let's use it.
Perhaps the erection of a "NO VACANCY" sign, in lieu of a Welcome Sign, would be more consistent with our campaign against the RV Park, the need NOT to over- extend our water system, and the pressing need for Levy County to finally live up to its responsibility to provide permanent fire protection for our community.

To my knowledge there is only one significant commercial activity at Fowler's bluff, to-wit: The Treasure Camp store. (a/k/a The Pub). I can think of no efficacious reason as to why the residents would promote that activity.
The next reason for a sign, I presume, would be to reflect the general hospitable nature of the residents (as is most assuredly true)...however, the unintended consequences of such an expression of our good nature could prove far riskier than the assumed benefit to our collective psych and good offices. Sadly, the violation of Malthusian Law throughout Florida has proven the caveat that "discretion may be the better part of valor", in these current times.
Finally, the county and the DOT have erected directional signs at strategic points commencing in Chiefland and on Hyw. #19 and from Cedar Key, that amply informs strangers of our locale.
Id just as soon that nobody else in the universe find Fowlers bluff but if you have to have a sign, this one is nice!
I like the sign and I think it is a good idea. When I was there, I would have liked to see it. At night especially, as I drove to far at least twice and had to turn around
.
Nice artwork, but didnt we just spend $5,000 dollars to keep unwanted visitation from our village. The County Commission might take this sign as a welcome to business and exploitation.
What would we be welcoming visitors to? We once had a nice little fish camp that sold bait, tackle, gas, some food items, and something unheard of for a fish camp; a fishing license. Can you imagine that. Decent accommodations were also provided for families wanting to stay and fish. Now we have a noisy bar unfit for any family activity!
If someone did decide to visit our area, again the only real option for accommodations are the apartments furnished by the bar. Something we can be really proud of!
The county ramp does provide access to the river, but there are no docks provided for people to safely board or exit their boats, and no picnic area for families. Again, only a bar that is definitely not family oriented. The county parking that is intended for use by boaters is mainly used as a private parking lot for the bar.
I have no objection to a nice sign, I just question it's useful purpose.